6 Sustainability in operations and procurement
SZKB's commitment to sustainability also includes its own office ecology. To make its services available, SZKB requires a variety of resources, which inevitably result in emissions and other environmental impacts. The following aspects
are particularly relevant to SZKB:
Direct and indirect energy consumption during operation
Business travel and commuter journeys
Share of renewable energies in energy consumption
Consumption of the resources of paper and water
Share of office and tissue paper from recycled sources
Waste produced
Direct and indirect CO2 emissions are documented in SZKB's greenhouse gas footprint. Due to business-related delays in reporting by data suppliers that are primarily external, the greenhouse gas footprint does not refer to the same reporting year as the Sustainability Report, but instead to the previous year in each case.

Procurement is also a key topic for SZKB. Through its criteria for selecting its suppliers, the scope of its contracts and the specifications for awarding contracts, SZKB has an indirect impact on the economy, the environment and society, including compliance with human rights.

Even if resource consumption and the associated environmental impacts are significantly lower at SZKB than at an industrial enterprise, for example, operational sustainability management is of great importance to SZKB.

There is a working group with representatives from various departments that meets regularly to identify, analyse and implement the related measures.
Together with Swiss Climate, SZKB has drawn up a climate footprint for the year 2021 as per ISO 14064-1 and the Greenhouse Gas Protocol for Scope 1 and 2 as well as parts of Scope 3. The CO2 footprint was externally audited
and awarded the label «Certified CO2 optimised by Swiss Climate».
In 2021, SZKB's total emissions amounted to 916.9 t CO2. These are distributed among the individual consumption areas as follows: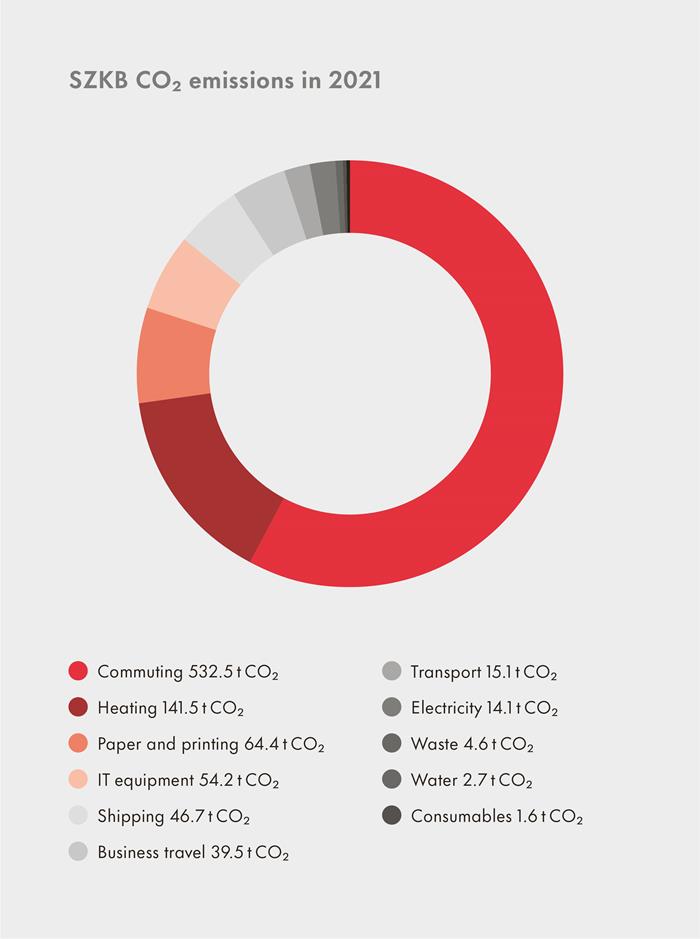 SZKB has set for itself the goal of reducing its CO2 emissions by 145.0 t, or 15.8%, from 916.9 t in 2021 to 771.9 t CO2 in 2027. The focus of the measures should primarily be on long-term reduction of in-house emissions; only in a secondary step should CO2 offsets be considered.

In 2021, mobility was by far the largest factor driving CO2 emissions at SZKB, with a distinction made between commuting journeys and business travel.

Commuting journeys are understood to be the trips that employees take to get to work. The data was provided by the internal survey of commuting journeys conducted in April 2022. The employee response rate to the survey was 65%, and the resulting figures were extrapolated to the entire company. It therefore stands to reason that the values are subject to a certain degree of uncertainty due to the data collection method. It is important to remember that the Covid-19 crisis and the associated increase in the number of employees working from home added a special factor to the results.

Commuting journeys caused 532.5 t of CO2 or 1,020.6 kg of CO2 per employee and accounted for 58.1% of total emissions. This high proportion of total emissions can be explained by factors including the geographical location of the Canton of Schwyz. The rural topography makes it difficult to use public transport, especially around the Schwyz headquarters.

Since car journeys with petrol and diesel vehicles account for 90.5% of commuter emissions, SZKB 2022 installed e-charging stations at its headquarters and at the Pfäffikon branch in order to create incentives for the use of electromobility. As an additional measure to encourage environmentally friendly travel, the prices for using the employee parking spaces were also significantly increased at all Bank locations.

Business travel accounted for some 39.4 t CO2 in 2021. Some 72.2% of the business trips were made by (private) diesel or petrol vehicle, and 24.0% were by train. Travel with electric cars then accounted for 3.8% of the distance. To reduce emissions caused by diesel and petrol vehicles, SZKB decided in 2022 that four electric vehicles would be provided to employees for the purpose of business trips. These vehicles will be made available from the first quarter of 2023.

Journeys taken with the two company transport vehicles and deliveries of securities and similar items to the branch locations carried out by external logistics partners resulted in emissions of 15.1 t CO2, corresponding to 1.6% of total emissions.
Emissions from heating systems (including water heating) at the headquarters and in the branches account for 141.5 t CO2, or 15.4% of the total.

Energy sources for the heating systems include district heating (46.1%), natural gas (25.0%), heating oil (12.8%), electric heat pumps (9.8%) and wood (6.3%). This means that the share of renewable energy for heating is 61.8%, which is significantly higher than the average of 18.4% for Swiss households. In 2021, the consumption of heating energy by area was 53.9 kWh/m2, significantly below the average for office buildings of 136 kWh/m2.

In 2022, SZKB set for itself the ambitious goal of replacing all remaining oil and gas heating systems in its own branch properties with heating systems not dependent on fossil fuels by the end of 2027.

In recent years, SZKB continuously reduced its paper and toner consumption. By default, clients receive transaction notifications as well as account and custody account statements only as electronic documents. The figure above shows the downward trend in physical client output (with 2005 = 100% taken as a basis).

In 2021, greenhouse gas emissions for paper and printing accounted for 64.4 t CO2, a share of 7.0% of the total footprint, with the share of recycled paper making up just 4.7%. SZKB therefore decided in 2022 to systematically make the changeover throughout the Bank to recycled products for both its tissue and office papers in all formats and grammages.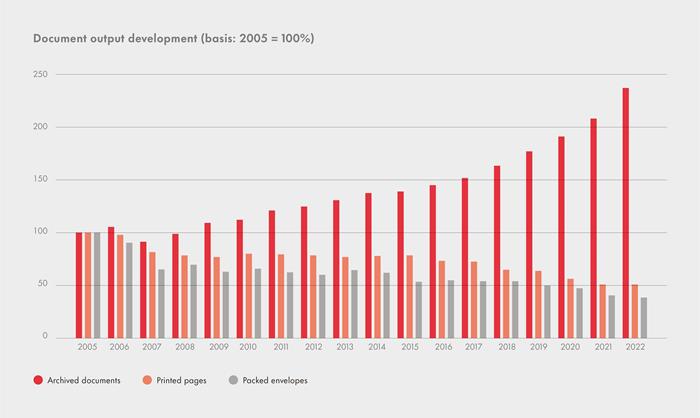 SZKB collects, separates and disposes of numerous consumable materials, including paper, cardboard, plastics/films, IT equipment, PET bottles, coffee capsules and household rubbish. Around 51.5% of this waste was recycled in 2021.

In the category of water, the Bank locations generated comparatively low CO2 emissions of just 2.7 t (0.3%). SZKB obtains the water it needs only from official water suppliers, and 100% of its wastewater is sent to wastewater treatment plants.
At 14.1 t CO2, SZKB's electricity consumption accounts for just 1.5% of CO2 emissions. The footprint takes into account the power consumption of the actual Bank premises (headquarters and branches), an external computer centre and the 13 cashpoints located at third-party sites.

A total of 93.1% of the nearly 2.2 GWh of electricity comes from renewable energy sources, far higher than the Swiss average of 74% and mainly due to hydropower due to the many hydroelectric power plants located in the Canton of Schwyz.

Wherever possible, SZKB obtains power from renewable sources. In situations of individual rental relationships, it was not possible to get complete transparency everywhere regarding the type of electricity used in 2021.

Outdated and inefficient light sources for indoor and outdoor lighting are gradually being replaced by LEDs and other energy-saving lamps.
Purchasing of products and services plays a major role in sustainability management. SZKB awards contracts worth several million francs every year. It is important to her that sustainability aspects are also included in the award criteria.

In 2022, SZKB carried out an analysis and risk assessment of the procurement areas in which the ESG criteria might be violated. Environmental, social and governance aspects were taken into account, with an assessment then made as to whether child labour might have occurred in the supply chain, as required under CO Art. 964k (1) (2).

Procurement areas with an elevated risk of violating social criteria include client gifts and promotional items, while areas with an increased risk of violating environmental criteria include vehicle procurement.

SZKB explicitly sought to raise awareness among its responsible purchasers in regard to the elevated ESG risks in the reporting year.

SZKB has no indications that environmental or social requirements were violated in the procurement process or that employees were involved in any cases of corruption in 2022. This meant that it was not necessary to initiate any measures.
CO2 emissions

Unit
2021
20201
Total emissions
tCO2
916.9


thereof Scope 1 – direct emissions


98.4


thereof Scope 2 – indirect emissions


16.5


thereof Scope 3 – other indirect emission


802.0


Emissions per employee
tCO2/FTE

1.7


Energy consumption






Total energy consumption
MWh

3'322


thereof electricity2
2'181


thereof heating oil
146


thereof natural gas
285


thereof wood
72


thereof electric heat pump
112


thereof district heating
526


Energy intensity






Consumption per energy reference area in m2
MWh

0.16


Energy consumption per employee
MWh/FTE

6.4


Paper consumption (including printing and tissue paper)






Total paper consumption
kg
61'326


thereof recycled paper
2'897


thereof climate-neutral printing
4'539


Paper consumption per employee
kg/FTE
117.5


Water consumption






Total water consumption
m3
6'314


Water consumption per employee
m3/FTE
12.1


Waste






Total waste
kg
17'029


thereof recycled
8'767


thereof not recycled
8'078


thereof hazardous waste
184


1 Comparisons with previous years are not possible as 2021 is the reference year.
2 93.1% thereof from renewable energy sources.
In future, SZKB will survey its CO2 footprint on an annual basis so it can report on changes to its environmental impact and the achievement of its targets.

SZKB aims to achieve the defined goals for reducing its CO2 emissions by continuing to pursue its chosen approach and systematically taking advantage of its options for reducing CO2 emissions. For this purpose, SZKB will give priority to the implementation of the following actions:

Fostering a sense of personal responsibility and raising awareness among employees of the necessity of further reducing material and energy consumption on an ongoing basis.
Conversion to renewable heating systems at branch properties owned by the Bank.
Implementation of additional measures to reduce mobility-related CO2 emissions from commuting journeys and business travel, including retention and facilitation of arrangements that enable working from home.
Definition of the requirements for the design of the workplaces of the future (including IT equipment).

SZKB will make further efforts in 2023 to take even greater account of ESG criteria in the procurement process and to optimise the existing directives for preventing corruption.