4 Sustainability in the investment sector

After the financing business, the investment business is SZKB's second largest segment. Within the scope of its asset management and investment advisory activities, SZKB can influence its clients to manage funds prudently and reduce negative impacts on the environment and society. For example, shares and bonds can be used to provide financial resources to companies that are committed to reducing carbon emissions (CO2) on a lasting basis. Conversely, companies in certain sectors run the risk of using the funds to facilitate economic activities that are associated with human rights violations, child labour or forced labour.

In the past, the question has repeatedly been posed as to whether investors have to forego returns if they take social, environmental and societal aspects (ESG factors) into consideration alongside economic factors when making financial decisions. In the meantime, financial market research and our own practical experience have provided a clear answer to this question: «No, they do not.»

SZKB has been offering its clients investment products with an explicit sustainability focus since 2009. This «ethical product line» is based on a combination of a best-in-class approach (positive selection), comprehensive exclusion criteria (negative selection) and traditional financial analysis. SZKB's ethical products therefore go far beyond the industry standard in terms of the systematic nature of their implementation. The ESG ranking by ISS ESG shows that this strict approach is the right one: with a maximum rating of five stars, the SZKB Ethical Funds are among the top 2% of the investment funds analysed worldwide.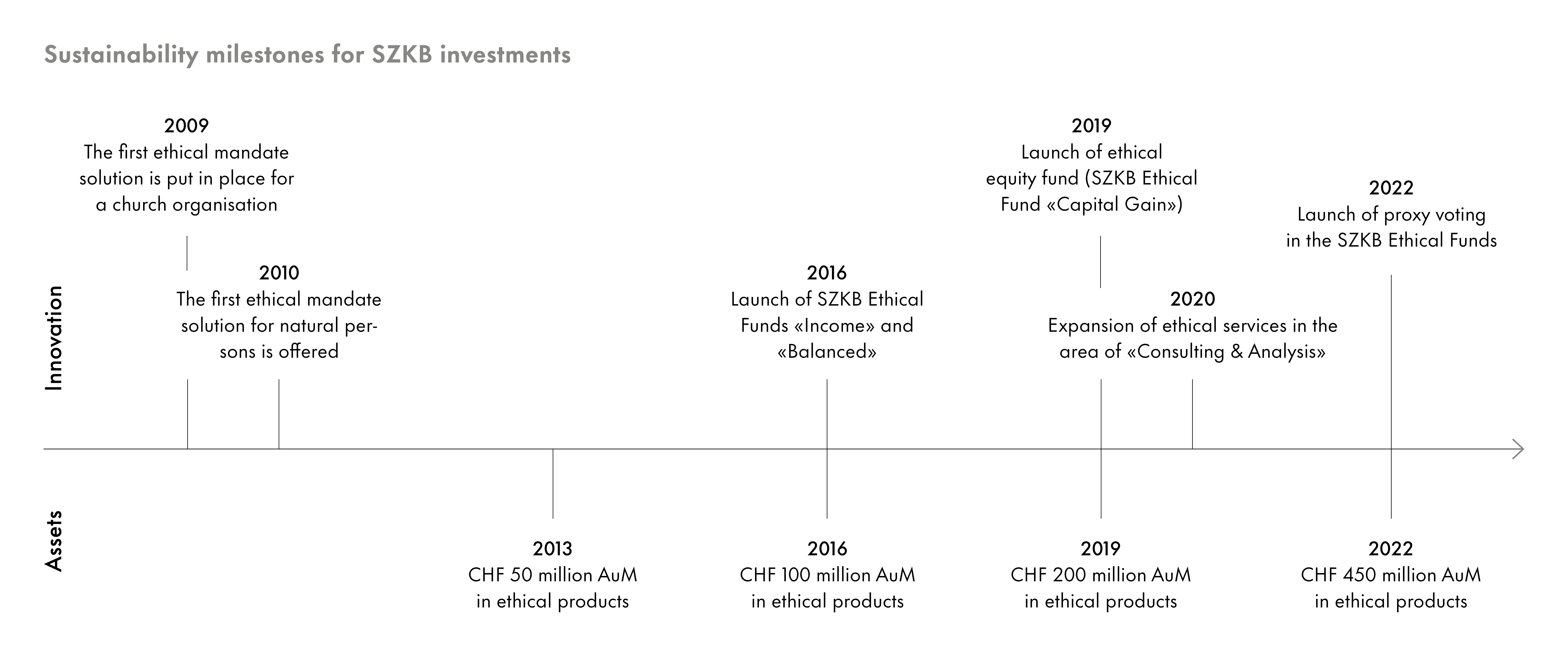 By now it should be clear that sustainability and returns are not mutually exclusive. However, SZKB's understanding of sustainability goes beyond the financial dimension. In addition to optimising the risk/return ratio of the investments,ZKB's values are also to be taken into account comprehensively in the ethical solutions. In this way it is possible to actively fulfil the Bank's responsibility as a financial services provider and to contribute to sustainable development in the Canton of Schwyz. Sustainability criteria are therefore defined in a broad discourse and the reviewed internally at regular intervals.
Overview of SZKB exclusion criteria
| Sector-based criteria | Standards-based criteria | Countries* |
| --- | --- | --- |
| Alcohol | Labour rights | Labour law |
| Arctic drilling | Child labour | Nuclear energy |
| Fracking/oil sands | Human rights | Nuclear weapons |
| Genetic engineering Food | Environmental behaviour | Authoritarian regimes |
| Gambling | Economic behaviour | Discrimination |
| Nuclear power | | Euthanasia |
| Coal mining | | Money laundering |
| Military and weapons | | Child labour |
| Fur production | | Climate protection |
| Pesticides | | Corruption |
| Pornography | | Human rights |
| Stem cell research | | Freedom of the press/media |
| Tobacco | | Arms budget |
| Animal testing | | Death penalty |
| | | Freedom of association |
| | | Whaling |
*Country view: If an exclusion criterion is violated, no investment can be made in corresponding government bonds or other government financing
Since 2009, SZKB clients have had access to a range of sustainable investment solutions that are subject to constant review and expansion. Specific screening services were added in 2020. This service is intended to actively increase the understanding of sustainable investments and support clients in gearing their investment portfolios towards sustainability. Such active support is an important lever for SZKB in promoting sustainable development, as the topic remains relatively complex today. True to the generational understanding, SZKB supports its clients with advice and accompanies them along the way to a sustainable future.

Sustainable investment products and services
Consultation and analysis
Investment solutions
Comprehensive climate report on the investment portfolio and comparison with benchmark index and/or SZKB portfolios
SZKB Ethical Funds: Collective investments in the risk strategy categories of Income,
Balanced, Growth and Capital Gain

Detailed ethics screening or climate screening, in which the investment portfolio is evaluated for consistent ESG implementation and climate risks
SZKB Topic Mandate Ethics: Direct mandates in the strategycategories of Income, Balanced, Growth and Capital Gain
Sustainability criteria for conventional investments
No sustainability strategies are currently being applied to conventional investments. It was a deliberate decision to give clients the freedom to choose whether they want to invest according to sustainable criteria or not. SZKB sees the preservation of this freedom of choice as a key factor in providing advice that is appropriate to the needs of its clients. Nevertheless, ESG issues are finding their way into traditional financial analysis as well as into conventional investment products, as corresponding issues are materialising in financial opportunities and risks ever more often, meaning that they have a crucial influence on the assessment of the various investment classes.
Engagement
The responsibility that arises from the funds entrusted to us for sustainable investment must be exercised comprehensively. An important step in this process is engagement activities with the companies in which investments are made. SZKB took an important step in this area in 2022. For example, proxy voting recommendations are now actively made for all SZKB Ethical Funds. Such recommendations are based on the proposals of an independent voting advisor. On this basis, the ESG interests (environmental/social/good corporate governance) of the investment community are safeguarded in the best possible way. The applied voting policy, the voting directives, and the specific voting behaviour are published transparently on the SZKB website.

In addition, SZKB has been a member of the Swiss Sustainable Finance (SSF) association since 2022. With its membership, the Bank is seeking to play an active role in the development of a sustainable financial centre and to contribute its many years of expertise in sustainability. SZKB is therefore taking another important step with regard to living up to the Bank's corporate responsibility.
Sustainable gold
As a global hub in the refining and trading of gold, Switzerland has a special role to play in this market. SZKB is resolute in its reliance on gold from fair trade. The Bank is therefore committed to better protection of people and the environment in the gold mining industry. Since 2021, gold bars weighing between one and twenty grams have been sold exclusively with the Fairtrade label of the Max Havelaar Foundation (Switzerland). Fairtrade did pioneering work in the gold trade and is committed to better protecting people and the environment when it comes to small-scale mining. Fairtrade-certified mines receive a Fairtrade premium per kilogram of gold in addition to the market price. This additional income is invested according to democratic criteria in improving operational processes as well as in community projects such as schools, water supply systems, and health centres. Fairtrade also provides clear directives for the use of chemicals in gold extraction. The establishment of long-term and transparent trade relationships makes certified mining organisations independent of middlemen and strengthens the producers' ownership on a lasting basis.
Key figures in the investment sector

| | 2022 | 2021 | 2020 | 2019 | 2018 |
| --- | --- | --- | --- | --- | --- |
| Sustainable asset management mandates | 116 | 106 | 62 | 53 | 47 |
| Sustainable asset management mandates (in CHF million) | 98.9 | 117.0 | 87.1 | 81.8 | 92.0 |
| Share of volume of sustainable asset management mandates of the total asset management mandates | 2.6% | 2.8% | 2.3% | 2.3% | 2.8% |
| Sustainable SZKB investment funds (in CHF million) | 318.5 | 273.8 | 148.0 | 106.9 | 78.0 |
| Share of volume of sustainable SZKB investment funds of the total SZKB investment funds | 23.8% | 21.2% | 12.0% | 10.8% | 11.7% |
Transparency is another essential factor in the area of sustainable investments. SZKB has always provided a strict transparency pledge in regard to its in-house ethical solutions. This transparency pledge is in regard to the entire value chain of the investment process, from the definition of sustainability criteria to final reporting to clients. To be able to keep this promise of transparency, all investments within the ethical solutions are direct investments.

The primary focus is still on performance, with the performance analysis of the ethical products being two-dimensional. Therefore, in addition to the financial risk/return consideration, the sustainability performance of the investments is also measured and is communicated actively. This is accomplished at the level of the Ethical Funds using selected sustainability factors on the fund fact sheets and via a separate climate report. This climate report contains relevant key figures in order to be able to comprehensively assess the climate risk of the portfolio as well as the individual securities used.

In addition to these specific reporting activities, SZKB discloses all ethical fund portfolios down to the individual company level on a quarterly basis.

SZKB has also intensified its activities in the area of the environment. In 2022, it participated for the first time in the voluntary climate compatibility test (PACTA 2022; Paris Agreement Capital Transition Assessment) of the Swiss financial market, which is carried out by the Federal Office for the Environment (FOEN) in cooperation with the State Secretariat for International Financial Matters (SIF). A total of 133 financial institutions participated in the analysis. The results from the climate compatibility test give SZKB an initial impression of the climate impact of its entire investment portfolio and form the basis for further analyses in this area.
SZKB's employees form the face of the Bank in regard to its clients. Accordingly, raising the awareness of employees on the topic of «sustainable investments» is of crucial importance. After just a few training units on the Bank-specific approach to sustainability and the corresponding product range took place in the past, training activities were greatly expanded in 2022. In the second half of 2022, comprehensive training on the topic of «sustainable investments» was provided to all SZKB employees. Twelve classroom training sessions were held for 180 front office staff members, and three online webinars with more than 380 participants from the back office were conducted. This increased the understanding of SZKB's ethical solutions across the board.
The topic of sustainability will continue to gain importance in the investment business. This is proven not only by the latest directives of the regulatory body but also by the efforts of various other stakeholders. As recently as June 2022, the SBA issued a directive setting out minimum requirements for inclusion of sustainability preferences and risks in investment advice and asset management. For new clients, these requirements must be implemented by 31 December 2023, and for existing clients, by 31 December 2024. SZKB welcomes this step, will support the corresponding measures, and primarily sees opportunities in this development.